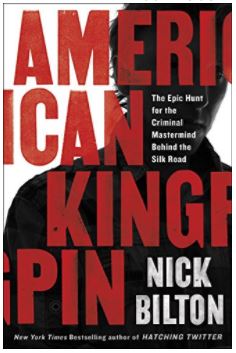 This is the 9th and final part of a discussion of Silk Road, as discussed in American Kingpin: The Epic Hunt for the Criminal Mastermind Behind the Silk Road, written by Nick Bilton. For the longer story, you may enjoy reading parts one, two, three, four, five, six, seven, and eight.
Other thoughts on the book
If you have previously been following the Silk Road story, you will enjoy the book. It reads like a good detective novel, except it is all true.
The book describes the mutual low opinion held of other federal agencies by the staff of most of the federal agencies that had a part in the investigation. This is not the first time I've read of those attitudes or heard of poor cooperation across agencies.
Lack of technical discussion
A couple of the reviews at Amazon indicate there is minimal technical detail in the book. That is absolutely the case.