Lots more discussion of Wounded Warrior Project in the last few days, including a major defense of WWP and the first public comments I've seen from the former CEO and COO.
3/17 – Charity Defense Council – Preliminary Media Advisory – Material Errors and Omissions Uncovered in Media Reporting on Wounded Warrior Project – This is a major discussion of the media coverage of WWP's spending and programming.
I don't have time to summarize the comments. Hope to do so this weekend.
If you have been reading any of my discussion of the media firestorm, you will definitely want to read this discussion. There is a large volume of information that hasn't been mentioned in public and a large amount of interpretive comments on how to look at financial statements.
In fact, I'll suggest you read that article before you read the rest of this post.
3/18 – Fox and Friends on Fox News – Executives fired from Wounded Warrior Project speak out – Departed CEO and COO go on camera. The segment is 7 1/2 minutes. Actual interview is only a two or three minutes since there is an intro, extro, and the headline accusations were repeated.
Link:  https://t.co/FDg09puGXq
Mr. Nardizzi said twice he's not perfect and once the organization isn't perfect.
There was a convoluted apology that won't leave anyone happy. My reaction watching it the first time is that he was sorry he allowed the media to use the rappelling and Segway entrances to misrepresent the organization. I am not quite sure what that means.
Watching it a second time confirmed my perception after the first read. To say 'I'm sorry they were wrong' isn't an apology.
He points out during his tenure the organization went from serving 3k wounded warriors a year to 100k a year.
He also made the very legitimate point that an organization cannot serve that many people unless it has staff to do so and an infrastructure to support the work. Unstated is that also means a lot of fundraising effort must be done to raise the money to provide programming.
Question directed to him: Why is he out of a job after the board investigation determined the media's accusations were not true?
He said he was disappointed in the board decision. He understands the pressure on the board from the media. His perception is they had to make a change to end the criticism so the organization can move forward.
The last question and reply focuses on what I think is the largest unanswered question: what is the underlying reason for the termination?
I'll be paying attention for comments related to that question.
3/17 – News4Jax – Founder says he was cut out of Wounded Warrior Project – Lots of information from the perspective of Mr. John Melia, the founder of WWP. He was ousted in 2009 after bringing in the now-fired CEO and COO.
A few comments of interest to me – He did not expect or want the organization to get as large as it is today.
There are two ways to look at the idea of the organization being smaller than it is now. First, there would be less need for fundraising efforts and less need for an infrastructure. On the other hand, there would be less programmatic impact of helping wounded warriors.
Here is some comparative data of income and expense on the 990:
342M / 248M – FY 14, latest year available
26M /   27M – FY 09, year Mr. Melia was removed
10M /     7M – FY 06, earliest 990 on the WWP website
Let's waive a magic wand and make the joint costs allocated to program services go away. Let's just look at non-allocated program costs.
Here are some numbers:
Program costs less allocated joint costs = program costs only without any joint cost allocation
190.0M – 40.9M = 149.1M – FY 14
16.4M – 3.6M = 12.8M – FY 09
5.6M – 0.6M = 5.0M – FY 06
After we waive away fundraising, G&A, and the joint costs allocated to program, look at the impact on wounded warriors: 149M in 14; 13M in 09; 5M in 06.
Where is the biggest impact? Looks like 14 is the winner, by more than a factor of ten.
Add up the money in the bank at the end of FY 14 of $23M cash plus $211M investments, which means there is $234M for future operations. That is enough to fund all program service operations for 1.6 years at the '14 operational tempo or 18 years at the '09 tempo.
A very on-point criticism raised by Mr. Melia is WWP hasn't yet admitted they were wrong. He says they aren't listening to the anger of donors and appear to be tone-deaf.
The article cites his criticism of using donor money to cover
"… snacks in the break room or going on lavish retreats."
Lots more in the article. Check it out.
3/18 – Nonprofit Quarterly – The Charity Defense Council & Wounded Warrior Project Connection: Follow the Money – Article acknowledges but does not engage the defense by Charity Defense Council (CDC) to the criticisms of WWP. I pointed to this discussion at the top of this post.
Article focuses on donation of $150K from WWP to CDC. That one contribution is a massive portion of CDC's 2014 income of $175K. From the graph it looks like total income from 2011 through 2014 is something the range of $200K.
The $175K from WWP is a huge percentage and obviously the initial seed money which allows the hiring of some new staff.
Prof. Brian Mittendorf (@CountingCharity) tweets: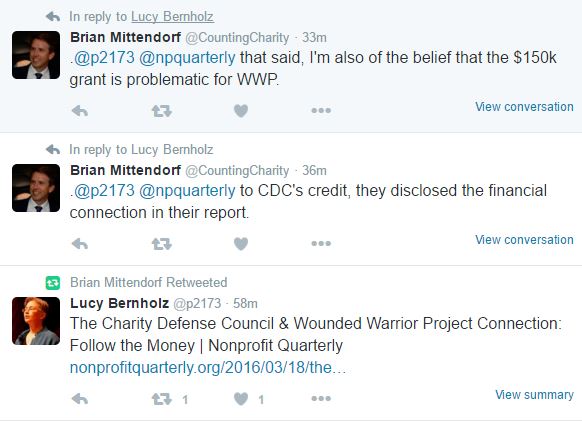 I agree this is actually a place for substantive criticism. We need a conversation on whether this is appropriate or not, and if it is okay, whether it was wise or not.
This is worthy of discussion. Renting rappelling equipment and a searchlight for a day to provide a grand entrance to a conference? Not so much.
I need to thank Brian Mittendorf for highlighting a lot of articles on the discussion of WWP during the last week. As I do some research each morning, I find his tweets point me to the best articles of the day. I've not found many helpful articles he hasn't already mentioned.
If you have actually read all the way to the end of this post, you reeeeeally  need to follow the professor on Twitter:  @CountingCharity.