Stars and Stripes has a good article summarizing the current story and looking forward a few steps. Senator Grassley pulls the WWP story into the political realm.
3/18 – Stars and Stripes – New project for Wounded Warrior charity: Regain trust. Article discusses the dangers facing WWP in terms of public perception and the impact on donations.
Article summarizes a number of recent articles, which makes this a good survey to catch up on what's happened lately.
I recommend the article for you because of the great way it brings together a number of different threads of the story.
About halfway through there is a verbatim quote of Mr. Nardizzi's comment on Fox and Friends which I mentioned earlier. In print, it still appears confusing. My thought as I write this post is the comment looks extemporaneous – it was not rehearsed. Making my own guesses as to what he was trying to say, I think there actually is a sincere apology in there somewhere.
Article tells the story of one vet who received physical therapy, occupational therapy, and then a life coach from WWP when the VA didn't even address his traumatic brain injury. The VA dropped the ball, but WWP picked it up. This vet is now well along on his journey to recovery.
Article also tells the story of several other vets who unsuccessfully tried to get into a WWP program. Their perception is having been brushed off by local staff.
As to the reason for the board firing the CEO and COO, a named professor who teaches on fundraising at the post-graduate level said
… it ultimately doesn't matter whether the board believes Nardizzi took the organization in the wrong direction or simply needed to calm spiralling confidence in the brand. Something needed to be done.
That raises a question as to the deepest reason for releasing the senior staff. More on that in my next post.
Article concludes with a another comment from this professor that the organization must get ahead of this issue and must do so quickly. The severe risk for WWP is losing donor support. Further down that road there could be a death spiral.
Let's get political…
Sen. Charles Grassley has sent an information demand to WWP. The New York Times reports on 3/18: Senator Want Data on Wounded Warrior Project, a Charity Under Fire.
I'm a slow learner so I'm just starting to figure out how these things work. The article says the senator sent the letter on Friday and the New York Times article is dated Friday. From that timing I gather the senator's office gave the reporter a copy of the letter shortly after it was sent to the charity.
The letter repeats the key headline accusations:
60% of donations were spent on program (validating the use of non-GAAP metrics)
Overhead costs are $124M in 2014, which is 40% of total income (assertion that the calculation is based on income, not a percent of expenses)
Overhead includes $26M for conferences attended by employees (notice that is alleged to be only for staff)
An annual staff meeting cost $970K (acknowledging the original $3M claim was incorrect)
Travel is by business class, including one time at a cost of $7000 for trip to Germany
Organization uses $500 per night hotel rooms (I've not seen that accusation before, but I don't get out much)
Hostile work environment against employees who raise issues of "lavish spending"
The letter makes a number of information demands. My summary:
For all conferences in 2013 and 2014 list the conference with "date, location, number of attendees, category of attendees (staff, speaker, non-staff veterans, etc.)."
For each conference list all speakers and the fees they were paid along with all incidental costs for the speaker.
Provided detail of the costs reported by WWP in program services category.
Provide a copy of the whistleblower policy.
List "all first-class and business class travel" and total amount from 2010 through today.
Explain "in detail" why WWP lobbied against legislative efforts to restrict how much charities can spend on supporting services. Quantify the total spent for those lobbying efforts.
Quantify the amount paid to a specific public relations firm since 2014.
Describe the relationship with Charity Defense Council. Describe how that relationship supports the WWP mission.
The letter says the reply should be provided by April 4. That is two weeks plus a weekend from the date of the letter. The organization is requested (ordered?) to brief his staff on the answers to the questions and what they're going to do about the issues.
You can read the original letter for yourself. You can grab a PDF here.
I first saw the coverage when Prof. Brian Mittendorf (@CountingCharity) pointed to it in a tweet. His follow-up comment:
.@ChuckGrassley is asking the right questions about WWP. The board's own review better have asked these too, so answers should be easy
Other comments
Another line of discussion – On 3/20 Prof. Mittendorf retweeted a comment that highlights an area that I think warrants some serious discussion: why has neither the board nor senior leadership tried to get ahead of this mess?

Leaders in charities ought to be paying close attention to that issue. The question to ponder: what lessons can I learn from this fiasco?
A brief comment on the WWP fiasco from Trace Adkins: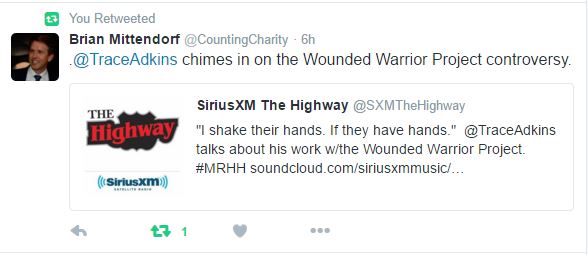 One minute seventeen second comment is here.
Key quote, which like most off-the-cuff comments, doesn't read as well in print as it sounds when spoken:
Every week, every night I do a show, there are wounded warriors at my show. … I shake their hands, if they have hands, and I have never once heard one of those people in the last seven years say to me "Wounded Warriors Project is not all it's cracked up to be, they don't take care of us the way they that say they do" or anything like that. I've never, ever, in seven years of meeting wounded warriors have I once heard one person say those words to me.
In the context of this issue, Mr. Adkins' comment is an assessment of effectiveness instead of efficiency.
His comment on efficiency:
So, people can say whatever they want to say about the way Wounded Warrior's been spending the money they get. I can tell you right now, from personal experience, I've never heard a wounded warrior complain about the Wounded Warrior Project to me.