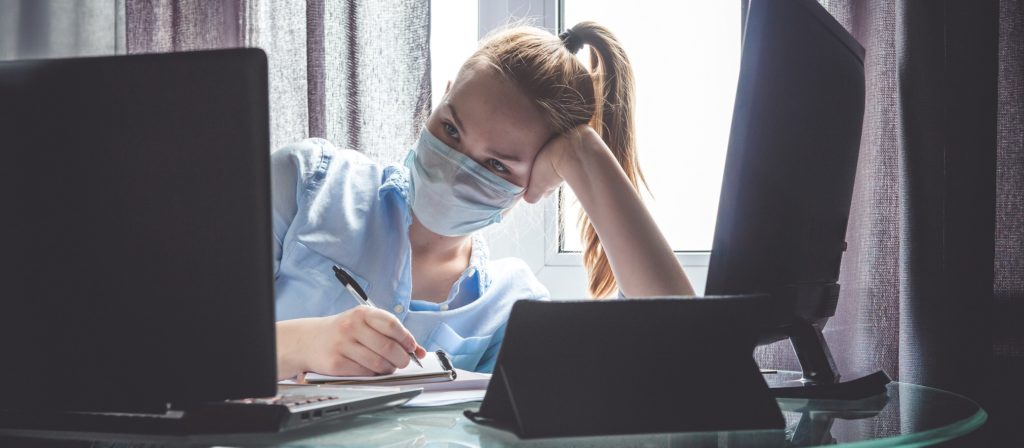 Destruction in the education world has been noticable to me over the last several weeks. Most of the articles have discussed the devastation in primary and secondary education. There will also be major disruption in higher education.
Today's articles:
3 million missing kids.
Kids from poorer neighborhoods will suffer most from lost education.
Last December UNICEF warned against keeping schools closed.
3/2/21 – PJ Media – Destroying a Generation: The 3 Million Missing Children of the Pandemic – Reports are rolling in of large number of schoolchildren who have disappeared. They have not been in school at all. These reports are coming in from across the country.
Summary estimate is 3 million kids may have not received any education since last March.
Several specific data points include Los Angeles.
LAUSD looked at the kids already at risk which includes English learners, kids with disabilities, and homeless children. Of those at-risk kids, somewhere between 15% and 20% of them did not access any, any, online resources in the last three months of the 2020 academic year.
In Miami-Dade County 16,000 kids did not return in the fall.
ABC inquired of officials in every state Department of Education and found all of them are seeing problems of kids just disappearing from the educational system.
In Michigan, 13,000 students disappeared.
In Dallas tally of still missing students include 9,000 at the high school level, 2,000 in middle school, and 1,000 elementary children.
Kindergartens across the country are reporting reduced enrollment.
One study estimated 17 million kids don't have the technology they need in order to participate in on-line education. Lots of kids aren't as fortunate as the one illustrated in the photo at top of this post.
Article points out that several large teachers unions are refusing to allow their staff to go back to work. That impact, along with the horrible number of students who just disappeared out of the educational system, is falling disproportionately on minorities, marginalized students, and kids who were already struggling with school.
Why, oh why, are we doing that to an entire generation of kids who are already struggling or already facing barriers to success?
1/5/21 – Yale News – Covid school closures most harm students from poorest neighborhoods – A researcher calculated the damage from closing schools will fall hardest on poor kids. Researcher is an economist from Yale with funding support from NBER.
Researcher's analysis estimates the loss in future earnings from losing one year of school. The findings:
25% loss of future earnings for ninth graders in the poorest 20% of US neighborhoods.
Essentially 0% loss of future earnings for ninth graders in the richest 20% of neighborhoods.
Intuitively those results make sense.
Consider how many new computers are likely to be in rich households compared to poor households. That matters because every child must have their own computer to attend classes.
Consider the Internet access in the different income level households. That matters because there needs to be enough bandwidth for all the kids to be able to access classes simultaneously.
Consider the space needed to so all the kids can spread out far enough that they have their own area to work.
The researcher assumes three years of normal, successful education following the disruption of ninth grade classes.
Researchers found no loss in education for ninth graders in the richest communities.
My recurring question – Why are we destroying children's education? More importantly, why are we doing this knowing there is a disproportionate impact on less advantaged children, the kids already facing an uphill struggle to success?
12/7/20 – UNICEF – Covid-19: UNICEF warns of continued damage to learning and well-being as number of children affected by school closures soars again – Even UNICEF caught on that closing schools doesn't help curtail the pandemic while causing serious harm to children. They mentioned this way back in December 2020. They noted the impact falls disproportionately on those who are "most marginalized."
Closing quote from the UNICEF Global Chief of Education:
"What we have learned about schooling during the time of COVID is clear: the benefits of keeping schools open far outweigh the costs of closing them, and nationwide closures of schools should be avoided at all costs,"
Again: Why are we doing this to kids? Worldwide?