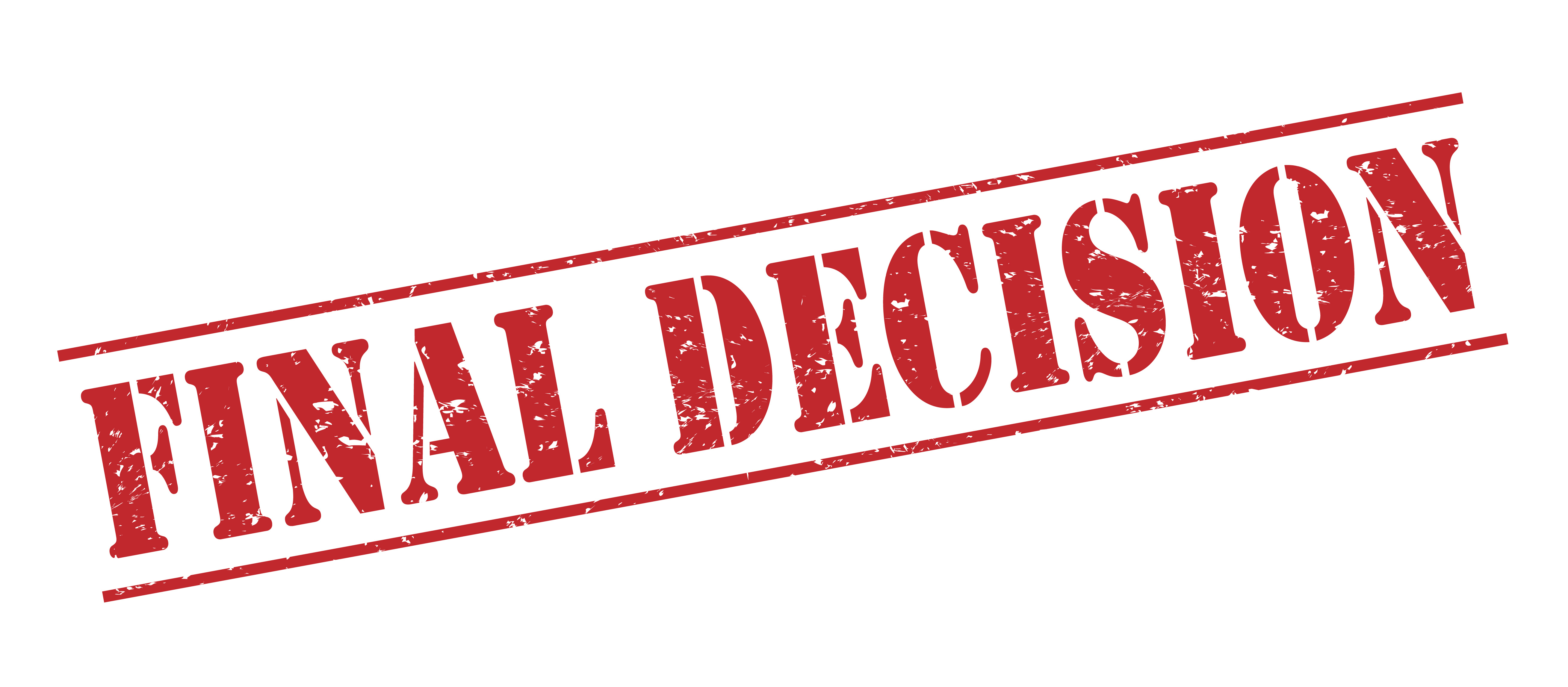 On Friday 9/20/19, the California AG issued final decisions regarding the cease and desist orders against MAP International, Food for the Poor, and Catholic Medical Mission Board.
Those C&DOs have been discussed at length on this blog. See tag California AG.
If I understand the process correctly, this means the C&DO are now in effect. The fines are due soon and the clock is running on the several required actions. In addition, the various statements made by the charities regarding overhead efficiency must be changed.
I have asked the AG's press office for copies of the actual final decisions. When I receive them, I see what new information they contain, such as appeal options.
My not-so-wild guess is the charities will follow whatever appeal options exist. (Since one of the three charities has told me they will appeal, I guess that isn't actually a guess at all.)
Press release says fines total $1,490,175. Based on the preliminary decisions, the breakout by charity is:
| | |
| --- | --- |
|    Food for the Poor |    $1,000,000 |
|    MAP International |           80,600 |
|    Catholic Medical Mission Board |         409,575 |
|    total fines |    $1,490,175 |
Short recap:  the AG lost the claim that the financial statements misapplied GAAP in the valuation of donated medicine. The claim that appeal letters were deceptive was sustained by the Administrative Law Judge.
The above final decisions, fines, and enforcement steps carry out the decision regarding the wording in the appeal letters.
As for the GAAP valuation issue….
If you read the press release, you will notice several comments mentioning the AG sponsored AB 1181, which will require charities to use international pricing for valuation of donated medicine when the donor indicates the medicine must be distributed outside the U.S. The bill passed the Assembly and Senate overwhelmingly.
AB 1181 is on the governor's desk, awaiting signature.
The full press release may be found here. Since it is a public document and is in the public interest to do so, I will quote it in full:
Attorney General Becerra Secures Cease and Desist Orders and Over One Million Dollars in Penalties Against Three Charities for Deceptive Solicitations

Friday, September 20, 2019

Contact: (916) 210-6000, agpressoffice@doj.ca.gov

SACRAMENTO – California Attorney General Xavier Becerra today announced three final decisions that upheld cease and desist orders issued against Catholic Medical Mission Board, Inc., Food for the Poor, Inc., and MAP International for their deceptive solicitation tactics. These charitable organizations solicited donations by deceptively implying to donors that up to 99 percent of their cash donations went to charitable programs, when in reality up to 40 percent of cash donations were used for administrative and fundraising costs. These organizations vastly inflated their revenue by valuing gift-in-kind drug donations at high U.S. market prices even though they knew they were shipping these donated drugs to overseas locations where their value was far lower. An administrative law judge ordered all three charities to cease and desist using deceptive statements when soliciting donations and ordered them to pay penalties totaling $1,490,175.

Attorney General Becerra continues to honor his commitment to protecting charitable donors and honest charities. Earlier this year, Attorney General Becerra sponsored Assembly Bill 1181, a bill introduced by Assemblymember Monique Limón to tackle the lack of transparency in the valuation and reporting of non-cash, gift-in-kind donations. Charities that shamefully inflate the value of gift-in-kind donations, and thus the true value of the total contributions they receive and the value of the services they perform, severely disadvantage honest charities competing for donations.

"Today's announcement should serve as a reminder: charities that mislead generous donors will face serious consequences," said Attorney General Becerra. "Assembly Bill 1181 is a promising first step in the right direction to protect donors, ensure transparency, and level the playing field among charities operating in California. My office will not tolerate accounting gimmicks, and we will hold accountable charities that engage in deceptive solicitations."

The decisions announced today assert that all three charities must cease their solicitations that imply that high levels of cash donations were used for charitable program services when, in truth, much lower levels were used. If signed into law by Governor Newsom, Assembly Bill 1181 would require charities operating in California to consider the restrictions pharmaceutical companies place on donated drugs in assessing their value. For example, if a pharmaceutical company restricts donated drugs so that the recipient charity cannot distribute them in the U.S., then the charity should not value these donated drugs using U.S. prices for the purposes of reporting them as revenue and program services on their financial reports.

In addition to today's announced enforcement actions, recent successful actions by the Attorney General against other charities that inflated the value of donations demonstrate the need for Assembly Bill 1181:

On March 12, 2018, Attorney General Becerra secured a judgment and permanent injunction against the National Cancer Coalition for inflating the value of its pharmaceutical donations using U.S. prices and falsely reporting how much revenue supported its charitable program. As a result, donors were tricked into giving a total of $461,610 between 2013 and 2014, but no money was spent on such services as mammograms, diagnostic tests, or direct assistance. The charity agreed to dissolve and pay $500,000 in penalties. Its employees and agents agreed to several permanent injunctive terms including agreements to use appropriate international medicinal market prices and to include as revenue and program expenses the purchase price of any gift-in-kind that was purchased. Further, they agreed to only report as revenue and program expenses the value of gifts-in-kind over which they had ownership and the sole discretion to determine the end recipient of the donations.
On January 29, 2019, Attorney General Becerra announced a settlement with Giving Children Hope. Using U.S. drug prices, Giving Children Hope had valued donated drugs it had received from two of its own subsidiaries at $34.9 million and reported this amount as revenue on its financial reports. The two subsidiaries had actually purchased the drugs from a wholesaler for $225,000. The charity agreed to pay $400,000 and to stop providing misleading reports. Its directors, officers, and accountant agreed to pay a sum of $10,000.
On May 30, 2019, Attorney General Becerra filed a lawsuit against Aid for Starving Children for misleading donors to believe that the charity had raised $105 million between May 2011 and April 2018. The charity's reported revenue included $97.4 million in improperly valued pharmaceuticals, thereby leaving a much smaller cash revenue to fund actual feeding programs and pay the charity's administrative expenses. The case is in the initial stages of litigation.

More information on Assembly Bill 1181 can be found here.

***