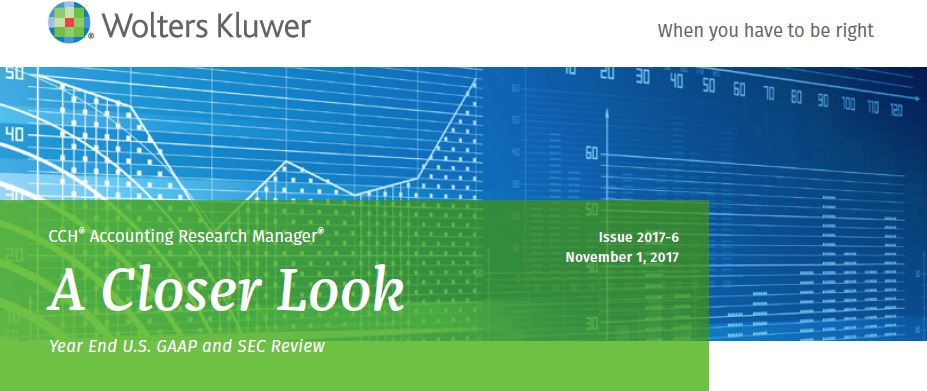 For a summary of the accounting rules released in 2017 and the most significant new rules from 2016, 2015, and 2014, check out A Closer Look: Discussion and Analysis of Current Accounting and Audit Issues.
CCH made this update available for free to people on their mailing list. I received permission from my editor at CCH to make it available on my blog.
Click here to download the 54 page newsletter. CCH does not  have a separate landing page for the document, so that link automatically downloads the newsletter. UPDATE:  If link didn't work for you, please try again. I reloaded the link and it is working now.
For each of the accounting rules covered, the newsletter provides:
Applicability
Effective date
Early adoption options
Transition rules
Discussion
Presentation and disclosure
The discussions range from a short one-paragraph comment to over a page for the new not-for-profit rules (ASU 2016-14) and over two pages for revenue recognition (ASU 2014-09).
Many of these rules do not apply to the not-for-profit community. However, there are some major issues here that will apply. Think financial statement presentation, leases, revenue recognition, and restricted cash on cash flow statement.
Feel free to download a copy. Read it for a superb set of reminders of all the new rules in place or on the horizon. Keep a copy for reference, such as effective dates or a reminder of the point of the ASUs.
I heartily recommend all CPAs read the newsletter as a planning technique for your upcoming year-end audits. There's no telling what rules have been issued that you somehow missed.  A refresher of the rules you knew about would also be worth your time. (Discovering what I should have focused on instead of browsing and getting a refresher on what I did focus on are the two main reasons I read so many update documents this time of year.)
Full disclosure:  I am compensated by CCH for technical reviews of some of their materials and for updating one of their books. I have no financial interest in the A Closer Look newsletter.
Update: Looks like the link is working. Since I fixed it a little while ago, this page has been viewed 10 times and the newsletter link has been clicked 5 times and no additional comments.