This post will have some inside-baseball info for those who are following the issue of how to value donated medicines that has been underway in the NPO and audit communities.
I came across a publicly available price list from a vendor, action medeor, that provides prices for a large range of medicines.
Since there is a behind-the-scenes debate whether the International Drug Price Indicator Guide (IDPIG) has any valid or relevant data in it, I decided to compare the public price list to the amounts listed in the IDPIG.
What did I find?
Prices in the IDPIG are very close to the price list.
I looked at four medicines: 200 mg albendazole and 100 mg mebendazole along with 250 mg and 500 mg ciprofloxacin. These are meds visible in the current conversations on valuing donated medicine.
This vendor has meds available from a European location and from Tanzania. Neither location offers 500 mg mebendazole. For the Cipro, 250 mg tablets are available from the European location and 500 mg tablets are available from Tanzania.
Here is the source of my data:
The data listed is from 2012 for the price list and from 2010 for information from the IDPIG.
Action medeor is the vendor that shows up for many of the items listed in the IDPIG.
Below I have listed information from the action medeor and the IDPIG.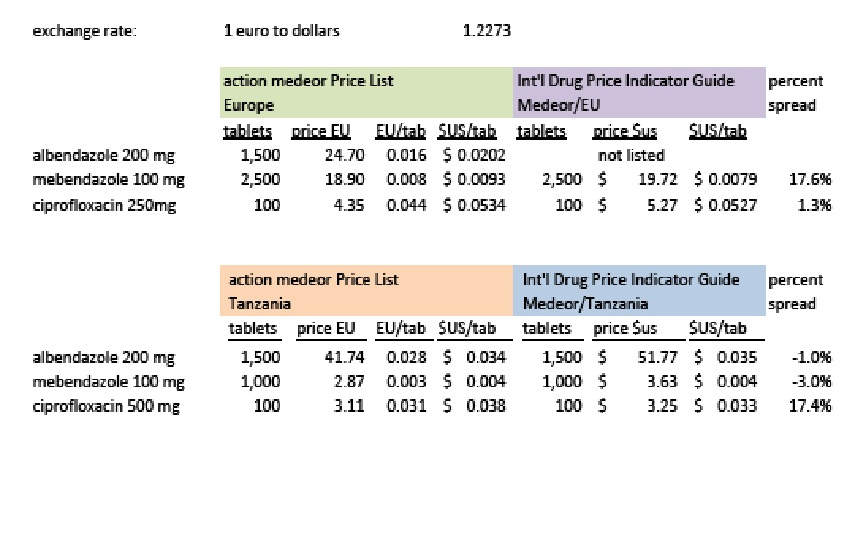 I'd like to point out two items for you to ponder: first, look at the low difference between the price list and the IDPIG; second the prices per pill are in the range of pennies per dose.
I think it is reasonable to infer the data in the International Drug Pricing Indicator Guide is representative of actual prices for which medicine can be purchased in large volumes on the international market.  It sure looks to me like this is a valid data point for indications of the fair value of donated meds. 
I'm open to ideas why those are not reasonable conclusions. I'm willing to provide space for a guest post if anyone would like to present alterative ideas.